Stomach Fat Loss
How to Lose 30 Pounds in 12 Weeks?
Wouldn't it be great if you could achieve all the stomach fat loss that you wanted? Wouldn't it be life changing if you were able to stumble across the secrets of how to lose 30 pounds in 12 weeks?
Most folks give up on weight loss after 40, and worse, accept that they will gain 5-10 pounds each year. But not Hal Empson. In fact, he knew that by following a few simple nutrition rules and by using the short, burst Turbulence Training workouts that he would be able to lose belly fat and get healthy again.
After all, Hal was a career military man, bodybuilder, and powerlifter (and cardio junkie) who was getting very concerned over his health. His face would turn bright red when he bent over to tie his shoes, and his stomach fat was building up. He was worried about his heart health and elevated cholesterol levels.
Try one of the most effective Turbulence Training workouts for FREE!
Enter your name and email to receive your FREE Report.
Be sure to check your "bulk", "junk", or "spam" folders, as emails occasionally get mistakenly filtered.
Your email will NOT be sold or rented. Turbulence Training is a Spam-Free website.
These drastic changes in his health scared him into taking action with the Turbulence Training workouts and to join one of the Transformation Contests. Hal followed the manual to a "T", even starting with the beginner workout program.
He did each short workout exactly as prescribed in the Turbulence manual, and was ecstatic to get in and out of his home workout space in such a short amount of time, all while burning belly fat.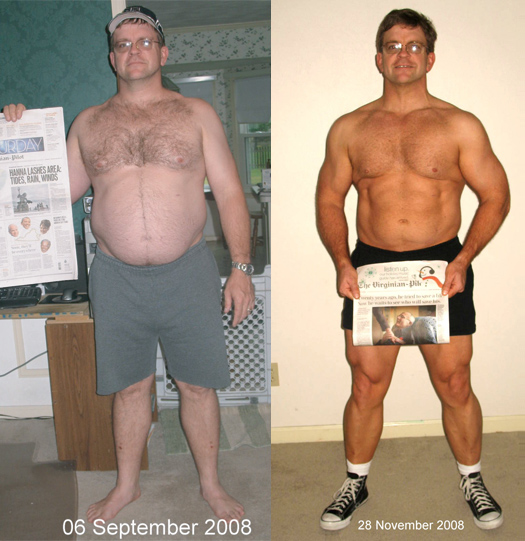 Despite his long background in fitness, he knew right away that nothing out there was like Turbulence Training, or the results it offered him. He was in and out of those workouts and back to his busy family life in less than 45 minutes.
Of course, nothing works without the right diet, and Hal loved the emphasis on whole, natural foods. Almost immediately he began to see improvements in his energy and blood pressure. It was a miracle!
Hal followed this simple rule, and was relieved he didn't need to study and review a huge nutrition course in order to lose stomach fat. The simple rule was, "Eat nothing out of a box or bag; but eat more fruits, veggies and lean proteins; eat less bread and sugar."
He eliminated the foods that made him weak, tired, unhealthy, and fat and focused on foods that gave him vitality and massive amounts of all-day energy. He also used the fasting for fat loss approach that so many other contest winners have used.
This powerful, yet simple solution of short, burst workouts, whole, natural foods, and fasting were perfect for massive stomach fat loss. In just a few short weeks Hal had lost over a dozen inches of fat from his body, and things kept getting better.
By the end of 12 weeks Hal lost an extraordinary 33 pounds of stomach fat, and changed his body so dramatically that he was voted the winner of the 3rd Turbulence Training Transformation contest.

He also dropped 9 inches of dangerous belly fat from his body, and drastically improved his health by slashing his cholesterol levels in half (while increasing his good HDL cholesterol from 43 to 46).
Before Turbulence Training, Hal was killing himself with bad lifestyle choices, but with Turbulence Training, not only did Hal achieve massive stomach fat loss, but he also improved his health, energy, and appearance. He's changed his body inside and out forever.
| | |
| --- | --- |
| | WOMEN: Click here to discover the truth about cardio for fat loss, and why the two components of short, burst exercise workouts have been scientifically proven to better for fat loss and losing your belly fat. |
| | MEN: Click here to uncover the secrets of short workout you can do to build muscle and burn fat at the same time, all while getting in and out of the gym in under 45 minutes only 3 times per week, so that you can get on to more important things in your life. |
Related Articles:
Fat Loss - How to Lose Belly Fat? | Lose Abdominal Fat | Fat Loss Nutrition | How to Lose Stomach Fat? | Weight Training Fat Loss | Bodybuilder Fat Loss | Fat Loss Mistakes | 3 Secrets to Lose Stomach | Core Workouts for Fat Loss | How to Lose Lower Ab Fat? | Body Fat Loss | Bodybuilding Fat Loss | The Best Fat Loss Workout | Lose Thigh Fat | Exercise Lose Fat | Fat Loss Diet | Natural Fat Loss | Lose The Fat | Lose Belly Fat | Fat Loss | Lose Body Fat Fast | Lose Stomach Fat | Fat Loss Cardio | Fat Loss Workout | Lose Fat Chest | Loose Stomach Fat | How to Lose Belly Fat? | Fat Loss Exercises | Fat Loss Programs | How to Lose Body Fat? | How to Lose Fat? | Fat Loss Exercise | Fat Loss Tips | Fat Loss Workout Routines | Healthy Fat Loss | Lose Fat Build Muscle | Fat Weight Diet | Loose Fat | Lose Fat | Lose Weight Fat | Lose Fat Diet | Lose Fat Quick | Fat Loss Muscle | Fat Loss Program | Lose Fat Quickly | Belly Fat | How to Get Rid of Belly Fat? | Lose Belly Fat Fast | Best Way to Lose Belly Fat | Fat Stomach | Lose Belly Fat Women | Fitness Circuit Training | Lose Belly Fat Diet | Stomach Fat Loss | Belly Fat Loss | Fat Reduction | Fitness Workouts | Cardio Workout Program | Cardio Workouts | Strength Training | Workout Routine | Strength Training for Women | Fitness Training | Reducing Belly Fat | Losing Fat