Belly Fat
30 Minute Workouts to Lose Belly Fat
Cardio, schmardio. You donít need to do long cardio workouts to burn fat. In fact, you can workout in less than half the time of traditional aerobics classes and bodybuilding workouts if you use the latest 30 minute workouts to lose belly fat.
Scientific research from Universities all over the world (including Australia, the UK, Asia, Canada, and the United States) have shown that interval training and resistance training help you burn fat and sculpt your muscles better than cardio.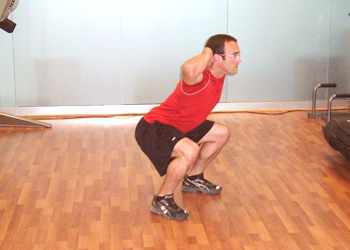 My clients, Bill and Lisa, loved this groundbreaking fat burning research news when they first started working with me. In the past, they had to drive to the gym at 5:30am, workout for an hour or even 90 minutes on their old trainerís program, and then get changed, drive home, get their teenage kid to school, and then finally get to the office.
That entire process required 2.5 hours of their day! But now with the 30 minute workouts to lose belly fat, they are saving 90 minutes per day and getting more results!
Try one of the most effective Turbulence Training workouts for FREE!
Enter your name and email to receive your FREE Report.
Be sure to check your "bulk", "junk", or "spam" folders, as emails occasionally get mistakenly filtered.
Your email will NOT be sold or rented. Turbulence Training is a Spam-Free website.
Plus, the best part about these new 30 minute workouts is that they are short and you can do them at home. So not only do you chop your workout time in half (if not more), but you also save the time you would usually spend driving to the gym (not to mention the money you spend on gas Ė and stopping at Starbucks!).
Bill and Lisa now get an extra hour of sleep, wake up at 6am, start their workouts by 6:30, and are done by 7am. That gives them enough time to get everyone out the door and on their way to school or work by 7:30.
So hereís how the 30 minute workouts to lose belly fat will work for you. First, youíll start with a bodyweight circuit to prepare your muscles and joints for exercise. This is a much better use of your time than doing 10 minutes on the treadmill to warm-up.
Bill and Lisa start easy, doing mobility exercises for their upper back (such as stick-ups), and then some exercises on the floor for their legs (stability ball hip extensions and 1-leg hip extensions). Then they do the plank and side plank for the abdominal endurance and to help fight off low back pain.
After that mini warm-up circuit, itís time to move a little faster. The next circuit uses bodyweight squats, modified pushups, jumping jacks, and stability ball jackknives. Now Bill and Lisa are ready to go! And weíve only done 8 minutes of exercise by this point.
The next phase of the 30 minute workout is resistance training supersets. Bill does dumbbell split squats while Lisa does close-grip pushups. Sheís getting up to 15 repetitions now! Then they switch and follow that with a short 30-60 second rest before repeating one more time.
Next up is another superset where we focus on the back of the body. Bill does pull-ups, and has gone from 0 reps to 5 reps in just a few short months. Lisa does 1-leg stability ball leg curls and then they switch, then rest, and then repeat.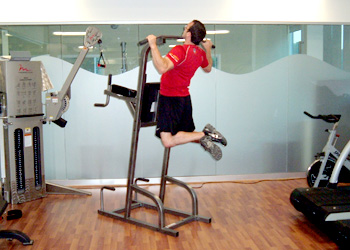 Finally, we move on to a circuit to finish off the 30 minute workouts, and they do this together. Itís very motivating, because as you know, social support and training with a partner is a key to fat loss.
The circuit starts with kettlebell swings, then moves to pushups with their feet on the ball, then prisoner squats and then mountain climbers. Bill and Lisa go through this circuit 3 times, and then finish with a short abdominal workout if there is time.
The abdominal exercises used are the cross crawl, stability ball rollout, and side plank with dumbbell lateral raise. These abdominal exercises are done in a fat burning circuit to save time.
Then thatís it for the 30 minute workout to lose belly fat. There is no cardio. There is no wasted time. There is no driving to the gym and wasting time and money. As you can see, the 30 minute workouts are simple, fun and effective!
| | |
| --- | --- |
| | WOMEN: Click here to discover the truth about cardio for fat loss, and why the two components of short, burst exercise workouts have been scientifically proven to better for fat loss and losing your belly fat. |
| | MEN: Click here to uncover the secrets of short workout you can do to build muscle and burn fat at the same time, all while getting in and out of the gym in under 45 minutes only 3 times per week, so that you can get on to more important things in your life. |
Related Articles:
Fat Loss - How to Lose Belly Fat? | Lose Abdominal Fat | Fat Loss Nutrition | How to Lose Stomach Fat? | Weight Training Fat Loss | Bodybuilder Fat Loss | Fat Loss Mistakes | 3 Secrets to Lose Stomach | Core Workouts for Fat Loss | How to Lose Lower Ab Fat? | Body Fat Loss | Bodybuilding Fat Loss | The Best Fat Loss Workout | Lose Thigh Fat | Exercise Lose Fat | Fat Loss Diet | Natural Fat Loss | Lose The Fat | Lose Belly Fat | Fat Loss | Lose Body Fat Fast | Lose Stomach Fat | Fat Loss Cardio | Fat Loss Workout | Lose Fat Chest | Loose Stomach Fat | How to Lose Belly Fat? | Fat Loss Exercises | Fat Loss Programs | How to Lose Body Fat? | How to Lose Fat? | Fat Loss Exercise | Fat Loss Tips | Fat Loss Workout Routines | Healthy Fat Loss | Lose Fat Build Muscle | Fat Weight Diet | Loose Fat | Lose Fat | Lose Weight Fat | Lose Fat Diet | Lose Fat Quick | Fat Loss Muscle | Fat Loss Program | Lose Fat Quickly | Belly Fat | How to Get Rid of Belly Fat? | Lose Belly Fat Fast | Best Way to Lose Belly Fat | Fat Stomach | Lose Belly Fat Women | Fitness Circuit Training | Lose Belly Fat Diet | Stomach Fat Loss | Belly Fat Loss | Fat Reduction | Fitness Workouts | Cardio Workout Program | Cardio Workouts | Strength Training | Workout Routine | Strength Training for Women | Fitness Training | Reducing Belly Fat | Losing Fat