Belly Fat Loss
Fast Belly Fat Loss of Over 30 Pounds!
If you want to lose over 30 pounds in 8-12 weeks, this amazing journey of Steve Hays will motivate and inspire you more than Rocky! Just listen to how Steve overcame the odds and achieved 34 pounds of belly fat loss in just 12 weeks.
When he started his transformation, Steve weighed 271 pounds. "The heaviest I'd ever been in my life," he said. And with a couple of young kids, it was going to be hard to stick to a plan to lose belly fat…or so he thought!
Steve wore size 40 jeans and his son even commented on his man boobs. That was incredibly embarrassing for Steve, and he knew it was time for a change.
With three kids, Steve didn't have time to commit to going to the gym six days per week for 90 minutes at a time, so he knew he needed a home workout program for belly fat loss, plus he needed a diet for his lifestyle.
Try one of the most effective Turbulence Training workouts for FREE!
Enter your name and email to receive your FREE Report.
Be sure to check your "bulk", "junk", or "spam" folders, as emails occasionally get mistakenly filtered.
Your email will NOT be sold or rented. Turbulence Training is a Spam-Free website.
In the past, Steve could only stick with a program for two or three weeks before it overwhelmed his life. But then he stumbled across Turbulence Training, the home workout program that only requires 3 short sessions per week.
In addition to the workouts, another key to his belly fat loss was the social support from the fat loss forum at Turbulence Training. There were folks from all over the world who were helping Steve stick to the program.
Like most guys, Steve started with the Intermediate Turbulence Training workout. Even if you are advanced, you should start with that program and simply adjust the intensity for your fitness level.
Turbulence Training is a new way of working out for most guys, especially if you are more familiar with the "do a set, rest 5 minutes" approach that bodybuilding magazines suggest. But no one has time for those workouts anymore!
After the Intermediate program, Steve moved on to the Original Turbulence Training program (the one that started it all back in 2001), and then finished with the powerful, Turbulence Training Hardcore program. That is a crowd favorite!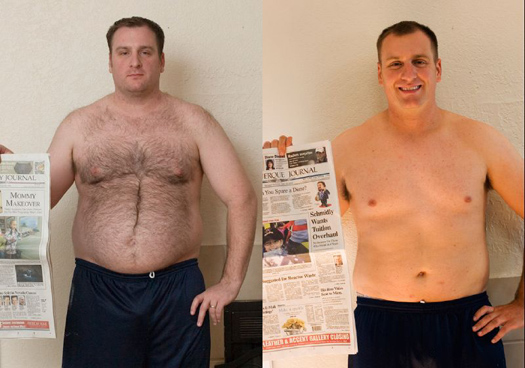 Now Steve can do chinups and dumbbell presses over 75 pounds. He's gained muscle and lost over 34 pounds of body fat in just 12 weeks. Plus, he's able to do the challenging bodyweight circuits and he can keep up with his kids.
Short workouts are the best way to train for busy parents. You can do it at home with minimal equipment and burn belly fat and gain muscle at the same time, sculpting your body and dropping your weight by 20-30 pounds in just 12 weeks.
Steve's success allowed him to get 2nd place in the first ever Turbulence Training Transformation Contest. He won $1000 and a 2-year Platinum membership at Turbulence Training so he could continue to lose fat and get fit for a long time.
Thanks to his hard work, the short workouts, the right nutrition plan for his personality and lifestyle, and to the social support on the Turbulence Training membership forum, he was able to achieve extreme belly fat loss.
| | |
| --- | --- |
| | WOMEN: Click here to discover the truth about cardio for fat loss, and why the two components of short, burst exercise workouts have been scientifically proven to better for fat loss and losing your belly fat. |
| | MEN: Click here to uncover the secrets of short workout you can do to build muscle and burn fat at the same time, all while getting in and out of the gym in under 45 minutes only 3 times per week, so that you can get on to more important things in your life. |
Related Articles:
Fat Loss - How to Lose Belly Fat? | Lose Abdominal Fat | Fat Loss Nutrition | How to Lose Stomach Fat? | Weight Training Fat Loss | Bodybuilder Fat Loss | Fat Loss Mistakes | 3 Secrets to Lose Stomach | Core Workouts for Fat Loss | How to Lose Lower Ab Fat? | Body Fat Loss | Bodybuilding Fat Loss | The Best Fat Loss Workout | Lose Thigh Fat | Exercise Lose Fat | Fat Loss Diet | Natural Fat Loss | Lose The Fat | Lose Belly Fat | Fat Loss | Lose Body Fat Fast | Lose Stomach Fat | Fat Loss Cardio | Fat Loss Workout | Lose Fat Chest | Loose Stomach Fat | How to Lose Belly Fat? | Fat Loss Exercises | Fat Loss Programs | How to Lose Body Fat? | How to Lose Fat? | Fat Loss Exercise | Fat Loss Tips | Fat Loss Workout Routines | Healthy Fat Loss | Lose Fat Build Muscle | Fat Weight Diet | Loose Fat | Lose Fat | Lose Weight Fat | Lose Fat Diet | Lose Fat Quick | Fat Loss Muscle | Fat Loss Program | Lose Fat Quickly | Belly Fat | How to Get Rid of Belly Fat? | Lose Belly Fat Fast | Best Way to Lose Belly Fat | Fat Stomach | Lose Belly Fat Women | Fitness Circuit Training | Lose Belly Fat Diet | Stomach Fat Loss | Belly Fat Loss | Fat Reduction | Fitness Workouts | Cardio Workout Program | Cardio Workouts | Strength Training | Workout Routine | Strength Training for Women | Fitness Training | Reducing Belly Fat | Losing Fat