Lose Belly Fat Diet
The How to Lose Belly Fat Diet - Lose 10 Pounds in 4 Weeks
If you want to discover the best how to lose belly fat diet, all you need to do is take a look at your own personality and schedule. You don't need to listen to the diet gurus. You don't need to stop eating your favorite foods. You just need to apply one simple rule to the foods you love and you can lose 10 pounds in 4 weeks.
Personally, I've discovered over time that I love to eat small meals of whole, natural foods over the course of the day. This provides me tremendous amounts of mental and physical energy, plus allows me to keep single-digit body fat all year round.
However, some of the best Turbulence Training success stories and Transformation Contest winners HATED that plan. Instead, they found that using the Eat Stop Eat method of intermittent fasting was the best how to lose belly fat diet for them.
Try one of the most effective Turbulence Training workouts for FREE!
Enter your name and email to receive your FREE Report.
Be sure to check your "bulk", "junk", or "spam" folders, as emails occasionally get mistakenly filtered.
Your email will NOT be sold or rented. Turbulence Training is a Spam-Free website.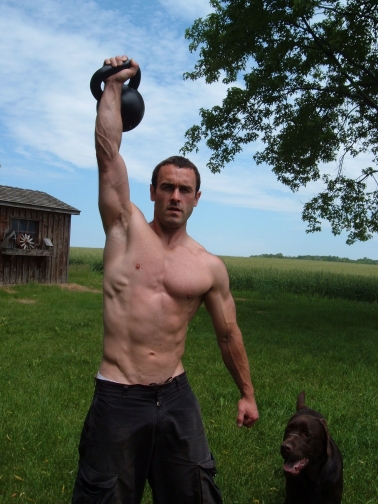 If you are a busy person who has no time or interest to fix (and clean up after) 6 small meals per day, then you'll love the fasting system. However, if you are like me, you might prefer to snack and graze throughout the day. It truly is a matter of personality.
| | |
| --- | --- |
| The first Turbulence Training Transformation Contest winner was Emily Johnson, a young woman living in Spain, and she connected best with the fasting lifestyle. On the other hand, Steve Hays, the runner up in that contest, lost over 33 pounds of fat by combining a high-protein, low-carb diet with Turbulence Training. | |
Unfortunately for Steve and many other folks, he had a hard time sticking with the low-carbohydrate diet. I truly believe he would have done better with a high-protein, moderate carbohydrate, loads of fruits and vegetables diet, combined with the fasting approach. The fasting system works really well for busy folks…and Steve was busy.
Most men and women can't be bothered counting calories, which makes the whole, natural foods system perfect as one of the best diets to support you as you burn stomach fat with resistance training and interval training.
| | |
| --- | --- |
| You can eat as many fresh fruits and vegetables as you want on that fat loss diet, plus you can eat filling raw nuts and meat. Avoid foods from a bag or a box. Replace some of your coffee with Green Tea. Never drink soda or juice or other un-necessary liquid calories. This diet will bring you tremendous energy every day of your life. | |
But the bottom line is that you can fit your favorite foods into any type of meal plan and still lose fat in the long-term. Since I use the whole, natural foods approach, I also plan in reward meals and snacks throughout the week.
Each day after my workout I have chocolate milk. It contains some sugar, but that is the only reward food I have all day. On Friday evenings I have a reward meal down at a local restaurant and I'll have a couple of beers as well. Sometimes I will even fast on the weekend. I can fit in all elements of the best diet to help keep the belly fat off while suiting my personality - and you can too!
| | |
| --- | --- |
| | WOMEN: Click here to discover the truth about cardio for fat loss, and why the two components of short, burst exercise workouts have been scientifically proven to better for fat loss and losing your belly fat. |
| | MEN: Click here to uncover the secrets of short workout you can do to build muscle and burn fat at the same time, all while getting in and out of the gym in under 45 minutes only 3 times per week, so that you can get on to more important things in your life. |
Related Articles:
Fat Loss - How to Lose Belly Fat? | Lose Abdominal Fat | Fat Loss Nutrition | How to Lose Stomach Fat? | Weight Training Fat Loss | Bodybuilder Fat Loss | Fat Loss Mistakes | 3 Secrets to Lose Stomach | Core Workouts for Fat Loss | How to Lose Lower Ab Fat? | Body Fat Loss | Bodybuilding Fat Loss | The Best Fat Loss Workout | Lose Thigh Fat | Exercise Lose Fat | Fat Loss Diet | Natural Fat Loss | Lose The Fat | Lose Belly Fat | Fat Loss | Lose Body Fat Fast | Lose Stomach Fat | Fat Loss Cardio | Fat Loss Workout | Lose Fat Chest | Loose Stomach Fat | How to Lose Belly Fat? | Fat Loss Exercises | Fat Loss Programs | How to Lose Body Fat? | How to Lose Fat? | Fat Loss Exercise | Fat Loss Tips | Fat Loss Workout Routines | Healthy Fat Loss | Lose Fat Build Muscle | Fat Weight Diet | Loose Fat | Lose Fat | Lose Weight Fat | Lose Fat Diet | Lose Fat Quick | Fat Loss Muscle | Fat Loss Program | Lose Fat Quickly | Belly Fat | How to Get Rid of Belly Fat? | Lose Belly Fat Fast | Best Way to Lose Belly Fat | Fat Stomach | Lose Belly Fat Women | Fitness Circuit Training | Lose Belly Fat Diet | Stomach Fat Loss | Belly Fat Loss | Fat Reduction | Fitness Workouts | Cardio Workout Program | Cardio Workouts | Strength Training | Workout Routine | Strength Training for Women | Fitness Training | Reducing Belly Fat | Losing Fat