Strength Training
Strength Training for Fat Loss
If you aren't using strength training as one of your weapons in the fight against fat, then you're leaving a lot of fat on your belly. Research - and my experience training thousands of men and women - shows that strength training burns fat fast.
In fact, the best fat burning workouts use a simple system of strength training supersets to help you get a fast metabolism boosting workout in just 20 minutes. All you need to do is follow the plan, like Andy Apsay did when he wanted to get lean and ripped.
At the start of his transformation, Andy was like most people, bouncing from workout to workout with no structure or success. At his worst, he had reached 225 pounds and 28% body fat, and he was borderline obese and unhealthy. But his children inspired him to take action and change his body.
Try one of the most effective Turbulence Training workouts for FREE!
Enter your name and email to receive your FREE Report.
Be sure to check your "bulk", "junk", or "spam" folders, as emails occasionally get mistakenly filtered.
Your email will NOT be sold or rented. Turbulence Training is a Spam-Free website.
He originally stumbled across the Turbulence Training workouts after reading about my system in Men's Health magazine. It was exactly what he needed, because Andy was getting stressed by work and was running out of time in his day because he was also the proud new father of twins.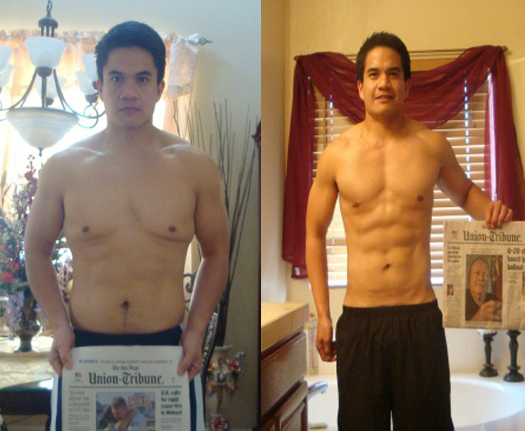 Andy almost gave up all hope of changing his body. Fortunately, simple strength training workouts changed his life. But Andy almost didn't try Turbulence Training because he was just so darn skeptical, thanks to being burned by so many programs in the past.
Plus, he'd spent a lot of money on useless supplements and protein powders, and didn't want to fail again. But everywhere he turned he kept hearing about Turbulence Training and new research studies showing you could gain muscle and lose fat at the same time with strength training.
So Andy took the plunge and started the perfect fat burning workouts. Each one started with a bodyweight circuit. Here's a sample bodyweight warm-up series. Start with prisoner squats, then move immediately to pushups, and then finish with reverse lunges. Do that circuit twice and do 10 reps per exercise.
Now you're ready for the resistance training supersets where you'll pick two non-competing exercises and perform them back to back without rest. A perfect bodyweight combination is pushups and split squats. If you have dumbbells, you can do dumbbell squats and dumbbell chest presses.
The great thing about the Turbulence Training system is that it is flexible and allows you to mix and match exercises, and you can do your workout anytime, anywhere, thanks to all the no-equipment alternatives.
In each workout you'll do 4-6 strength training exercises to work your entire body, including your abs, in just 20 minutes. For maximum fat burning, follow that with 20 minutes of interval training.

That proven system helped Andy Apsay burn belly fat and control his weight, helping him get down to a set of 6-pack abs at 10.5% body fat. He's lean, confident, and has more energy to play with his kids.
As Andy says, "I'm a living testament that Turbulence Training does work...don't think twice about it. Take my word for it. Get his programs now!"
| | |
| --- | --- |
| | WOMEN: Click here to discover the truth about cardio for fat loss, and why the two components of short, burst exercise workouts have been scientifically proven to better for fat loss and losing your belly fat. |
| | MEN: Click here to uncover the secrets of short workout you can do to build muscle and burn fat at the same time, all while getting in and out of the gym in under 45 minutes only 3 times per week, so that you can get on to more important things in your life. |
Related Articles:
Fat Loss - How to Lose Belly Fat? | Lose Abdominal Fat | Fat Loss Nutrition | How to Lose Stomach Fat? | Weight Training Fat Loss | Bodybuilder Fat Loss | Fat Loss Mistakes | 3 Secrets to Lose Stomach | Core Workouts for Fat Loss | How to Lose Lower Ab Fat? | Body Fat Loss | Bodybuilding Fat Loss | The Best Fat Loss Workout | Lose Thigh Fat | Exercise Lose Fat | Fat Loss Diet | Natural Fat Loss | Lose The Fat | Lose Belly Fat | Fat Loss | Lose Body Fat Fast | Lose Stomach Fat | Fat Loss Cardio | Fat Loss Workout | Lose Fat Chest | Loose Stomach Fat | How to Lose Belly Fat? | Fat Loss Exercises | Fat Loss Programs | How to Lose Body Fat? | How to Lose Fat? | Fat Loss Exercise | Fat Loss Tips | Fat Loss Workout Routines | Healthy Fat Loss | Lose Fat Build Muscle | Fat Weight Diet | Loose Fat | Lose Fat | Lose Weight Fat | Lose Fat Diet | Lose Fat Quick | Fat Loss Muscle | Fat Loss Program | Lose Fat Quickly | Belly Fat | How to Get Rid of Belly Fat? | Lose Belly Fat Fast | Best Way to Lose Belly Fat | Fat Stomach | Lose Belly Fat Women | Fitness Circuit Training | Lose Belly Fat Diet | Stomach Fat Loss | Belly Fat Loss | Fat Reduction | Fitness Workouts | Cardio Workout Program | Cardio Workouts | Strength Training | Workout Routine | Strength Training for Women | Fitness Training | Reducing Belly Fat | Losing Fat