Best Weight Loss Workouts
When Kristine Willis went looking for another fat loss program, she never expected to end up as a winner in a body transformation contest. But that's what happens when you use the best weight loss workouts.
Like most people, Kristine set New Year's Resolutions to lose weight and get back in shape. But she didn't know she was about to change her life, her body, and her self-confidence.
In the past, Kristine struggled with the courage and motivation to stick to a program, so when she found a weight loss plan that included professionally designed diet and exercise instructions, AND a forum for social support, she knew that this time it was going to be different.
Kristine was ready to stop making excuses, and made a commitment to finally reaching her goal body weight. She immediately knew she had found the best weight loss workouts because she was only in the gym half the time she used to spend in the gym.
Try one of the most effective Turbulence Training workouts for FREE!
Enter your name and email to receive your FREE Report.
Be sure to check your "bulk", "junk", or "spam" folders, as emails occasionally get mistakenly filtered.
Your email will NOT be sold or rented. Turbulence Training is a Spam-Free website.
With other ineffective cardio programs, she was accustomed to spending up to 60 minutes doing cardio, jumping from machine to machine to machine. It turns out that was all a waste of her time!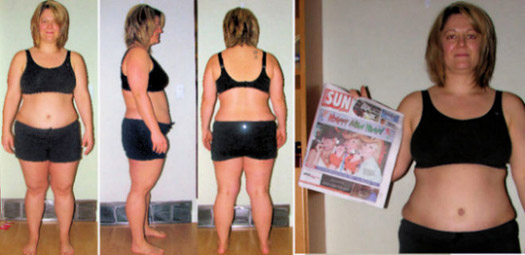 With Turbulence Training, she's now in and out of her workout in less than 45 minutes, and only exercises three times per week. Her new fat burning workouts focus on quality, not quantity, and don't expect her to train like a marathon runner or Olympic athlete.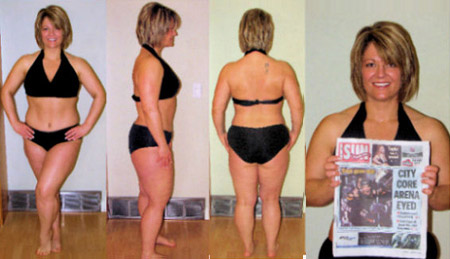 Instead, Kristine does short burst weight training exercises, such as pushup, squats, step-ups, and dumbbell rows. All of her exercises can be done with a set of dumbbells or just her bodyweight.
Her workouts start with a bodyweight circuit of prisoner squats, kneeling pushups, stability ball leg curls, and ab planks. This takes just a few short minutes and is the perfect way to start a fat burning workout. Don't waste your time walking on a treadmill.
She then moves immediately into superset resistance training, doing total body fat burning workouts to sculpt her muscles. She doesn't use the old-school methods of doing one body part per day, like the magazines suggest, because she doesn't have 2 hours per day, 6 days per week to devote to working out.

But with this simple and fast workout program, she's getting more results in less workout time than ever before. In fact, she recently set a goal of doing a real chinup, all by herself, at the end of the Turbulence Training weight loss workout program.
So far, Kristine has achieved amazing results in just 12 weeks with the best weight loss workouts, losing 16 pounds of fat and dropping 4 inches from her waist and over 2 inches from her hips.
The Turbulence Training Lifestyle also helped Kristine cut back on calories and junk food, and as a result she has so much more mental energy to do her workouts and take care of her family. All thanks to eating more whole, natural foods.
And the last secret to her successful weight loss program has been the social support, accountability, and encouragement of all the men and women on the Turbulence Training forum. She's been amazed by how positive everyone is towards her success!
If you want to burn fat fast, get started with a diet of whole, natural foods, discover the power of social support, and stick with the best weight loss workouts to get more results in less time.
| | |
| --- | --- |
| | WOMEN: Click here to discover the truth about cardio for fat loss, and why the two components of short, burst exercise workouts have been scientifically proven to better for fat loss and losing your belly fat. |
| | MEN: Click here to uncover the secrets of short workout you can do to build muscle and burn fat at the same time, all while getting in and out of the gym in under 45 minutes only 3 times per week, so that you can get on to more important things in your life. |
Related Articles:
Weight Loss Help | Fast Weight Loss Tips | Fasting for Weight Loss | Green Tea Weight Loss | How to Lose 20 Pounds? | Celebrity Weight Loss | How to Lose 10 Pounds? | Truth About Diets | Weight Loss Detox | Weight Loss Motivation | Fast Weight Loss Workouts | 3 Radical Weight Loss Tips | Interval Training for Weight Loss | Weight Loss Exercise | Weight Loss Workout | Goal Setting for Weight Loss | Long Slow Cardio for Weight Loss | Boost Your Metabolism for Weight Loss | 300 Workout for Weight loss | Top 5 Nutrition Weight Loss Myths | Extreme Weight Loss | Lose Weight | Walking for Weight Loss | Weight Loss Tips for Women | Weight Loss Pictures | Weight Loss Diet | Vegetarian Weight Loss | Losing Weight | Lose 10 Pounds | Exercises Lose Weight | Online Weight Loss | Weight Loss | Running Weight Loss | Weight Loss Plan | Weight Loss Exercises | Weight Loss Information | Best Way to Lose Weight | Lose Weight Gain Muscle | Lose Weight Quick | Walking and Weight Loss | Eat Lose Weight | Lose Weight Tips | Fast Weight Loss | Lose Weight Healthy | Weight Loss Plans | How to Lose Weight Fast? | Weight Loss Programs | Weight Loss Workout Routine | Fat Weight Loss | How to Loss Weight? | Weight Loss Photos | Help Lose Weight | Weight Loss Tips | Healthy Weight Loss | Weight Loss Tip | Quick Weight Loss | Rapid Weight Loss | Safe Weight Loss | Weight Loss Reviews | Best Weight Loss | Best Weight Loss Tips | Weight Loss Program | Weight Loss Workouts | Weight Training Workouts | Best Weight Loss Workouts | Lose Tummy Fat | Weight Training Workout | Workout Program