Weight Training Workout
Looking for a weight training workout for weight loss? Most people don't think weight training can help you lose belly fat, but Mike Gagliano lost 25 pounds with strength training and intervals.
Like most guys looking for short, burst workouts, Mike has a baby, and a young family requires all of your free time. As a result, Mike couldn't be doing long, slow cardio workouts all the time.
In the past, Mike also did bad bodybuilding workouts where he rested up to 5 minutes between sets talking to other people. This was no way to be doing weight training workouts for weight loss.
Try one of the most effective Turbulence Training workouts for FREE!
Enter your name and email to receive your FREE Report.
Be sure to check your "bulk", "junk", or "spam" folders, as emails occasionally get mistakenly filtered.
Your email will NOT be sold or rented. Turbulence Training is a Spam-Free website.
But then one day around New Year's Mike stumbled across Turbulence Training and discovered the power of non-competing supersets and how he could get a total body lifting session done in only 20 minutes.
Weight training builds muscle and burns fat. In fact, one study from Purdue University had a group of men and women do a 12-week, 3-day per week weight training program and the subjects gained muscle and lost fat at the same time!

Another amazing fact about that research study was that subjects had an average age of over 60! So weight training works for men and women at every age. And it will work for you better than long slow cardio.
Combined with Mike's bad nutrition habits, his old school bodybuilding workouts left him out of shape and overweight. If you only looked at that type of training, you'd say that weight training does not burn fat.
However, there are ways to make your resistance training workouts burn fat and build muscle, and that requires you using less rest between sets to get more work done in a short amount of time.
Mike used the Original Turbulence Training Workout to start losing fat. This program was designed with multi-muscle exercises so that no time was wasted. There is no need for isolation exercises, because those are a waste of time. If you really want to change your body you must use total body exercise.
After 4 weeks on that program, Mike changed his weight training workout, just like you should every 4 weeks. That's another secret to getting more results with resistance training workouts.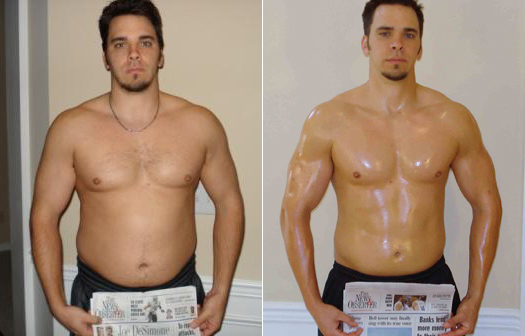 In just 12 weeks Mike lost 25 pounds of fat, including 5 inches of fat from his waist. And the crazy thing was he lost a remarkable 12.7% body fat! That's one of the biggest changes ever recorded in a Turbulence Training Transformation Contest. Mike's results are dramatic but you can lose fat this way too!
Using short, burst weight training workouts will help you lose weight with weight training. And Mike, like everyone that wants to burn fat, had to change his diet to get maximum fat loss results, but it was easy.

Mike ate whole, natural foods and stopped eating junk from a bag or a box. He got rid of all the added sugar from his diet. It was easy for him to switch to protein, vegetables, and fruit, and as a result, more results from weight training workout.
| | |
| --- | --- |
| | WOMEN: Click here to discover the truth about cardio for fat loss, and why the two components of short, burst exercise workouts have been scientifically proven to better for fat loss and losing your belly fat. |
| | MEN: Click here to uncover the secrets of short workout you can do to build muscle and burn fat at the same time, all while getting in and out of the gym in under 45 minutes only 3 times per week, so that you can get on to more important things in your life. |
Related Articles:
Weight Loss Help | Fast Weight Loss Tips | Fasting for Weight Loss | Green Tea Weight Loss | How to Lose 20 Pounds? | Celebrity Weight Loss | How to Lose 10 Pounds? | Truth About Diets | Weight Loss Detox | Weight Loss Motivation | Fast Weight Loss Workouts | 3 Radical Weight Loss Tips | Interval Training for Weight Loss | Weight Loss Exercise | Weight Loss Workout | Goal Setting for Weight Loss | Long Slow Cardio for Weight Loss | Boost Your Metabolism for Weight Loss | 300 Workout for Weight loss | Top 5 Nutrition Weight Loss Myths | Extreme Weight Loss | Lose Weight | Walking for Weight Loss | Weight Loss Tips for Women | Weight Loss Pictures | Weight Loss Diet | Vegetarian Weight Loss | Losing Weight | Lose 10 Pounds | Exercises Lose Weight | Online Weight Loss | Weight Loss | Running Weight Loss | Weight Loss Plan | Weight Loss Exercises | Weight Loss Information | Best Way to Lose Weight | Lose Weight Gain Muscle | Lose Weight Quick | Walking and Weight Loss | Eat Lose Weight | Lose Weight Tips | Fast Weight Loss | Lose Weight Healthy | Weight Loss Plans | How to Lose Weight Fast? | Weight Loss Programs | Weight Loss Workout Routine | Fat Weight Loss | How to Loss Weight? | Weight Loss Photos | Help Lose Weight | Weight Loss Tips | Healthy Weight Loss | Weight Loss Tip | Quick Weight Loss | Rapid Weight Loss | Safe Weight Loss | Weight Loss Reviews | Best Weight Loss | Best Weight Loss Tips | Weight Loss Program | Weight Loss Workouts | Weight Training Workouts | Best Weight Loss Workouts | Lose Tummy Fat | Weight Training Workout | Workout Program