Weight Training Workouts
Weight Training Workouts for Weight Loss
Weight training workouts are a proven way to help you burn fat and sculpt your muscles. Plus, youíll get more results in less time with weights than you will with long, slow, boring cardio.
You can completely change your body with resistance training. On the other hand, endurance training will only make you skinny, not lean and sexy. You simply canít have a great body without some type of strength training. It must be in your fat loss program.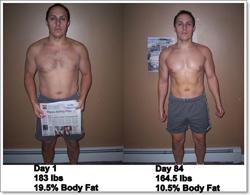 Weight training workouts wonít make you bulk up unless that is your goal, and you eat hundreds of extra calories per day. In fact, with the right type of resistance training exercises, you can be like transformation success story Mark Russo, who lost 18.5 pounds and 9% body fat in just 12 weeks using Turbulence Training.
Try one of the most effective Turbulence Training workouts for FREE!
Enter your name and email to receive your FREE Report.
Be sure to check your "bulk", "junk", or "spam" folders, as emails occasionally get mistakenly filtered.
Your email will NOT be sold or rented. Turbulence Training is a Spam-Free website.
Mark started with the Turbulence Training Intermediate workout for his body transformation. This program requires bodyweight exercises and dumbbell exercises for a weight training workout for weight loss.
If you want to finish your workouts faster, you need to combine exercises into supersets and decrease the rest between each exercise. This can cut your workout time in half without sacrificing results.
Each of your resistance training workouts should incorporate the big 5 fat burning exercises. The first exercise is a squat movement, and this can include barbell squats, dumbbell squats, kettlebell swings, or 1-leg bodyweight squats.
The second exercise is a pushing movement, and can be bench presses, dumbbell presses (incline, flat, decline, or shoulder press), or one of the dozens of pushup variations you can do at home.
The third exercise is a pulling movement, and can be pull-ups, chinups, barbell rows, dumbbell rows, T-bar rows, or any one of the dozens of exercises that work your arms and your back. You could even use deadlifts, which are one of the many exercises that can be included in two categories (deadlifts would also be a squat type movement).
The fourth exercise is your choice of any single-leg exercises, from dumbbell lunges to dumbbell step-ups. This is one of the toughest categories, but donít skip it if you want to get great results from your weight training workouts.
The fifth exercise is a total-body abs exercises, and most of these do not use weights, although cable crunches are an example. Other ideas include mountain climbers, planks, and hanging knee raises.
So those are the 5 types of exercises that should be in every weight training workout for weight loss. Mark Russo used all of these exercises in his Turbulence Training Transformation Contest workout program, and was able to lose an astounding 18.5 pounds in just 12 weeks.
His programs were short, fun, fast and effective, and didnít require long, slow, boring cardio to sculpt his body and get lean. Dropping body fat requires the right diet, not hours of exercise.
Follow Markís example and cut out sugar and processed foods from your diet, and then start using the Turbulence Training programs for weight loss. You can even do these weight training workouts in the comfort of your own home.
| | |
| --- | --- |
| | WOMEN: Click here to discover the truth about cardio for fat loss, and why the two components of short, burst exercise workouts have been scientifically proven to better for fat loss and losing your belly fat. |
| | MEN: Click here to uncover the secrets of short workout you can do to build muscle and burn fat at the same time, all while getting in and out of the gym in under 45 minutes only 3 times per week, so that you can get on to more important things in your life. |
Related Articles:
Weight Loss Help | Fast Weight Loss Tips | Fasting for Weight Loss | Green Tea Weight Loss | How to Lose 20 Pounds? | Celebrity Weight Loss | How to Lose 10 Pounds? | Truth About Diets | Weight Loss Detox | Weight Loss Motivation | Fast Weight Loss Workouts | 3 Radical Weight Loss Tips | Interval Training for Weight Loss | Weight Loss Exercise | Weight Loss Workout | Goal Setting for Weight Loss | Long Slow Cardio for Weight Loss | Boost Your Metabolism for Weight Loss | 300 Workout for Weight loss | Top 5 Nutrition Weight Loss Myths | Extreme Weight Loss | Lose Weight | Walking for Weight Loss | Weight Loss Tips for Women | Weight Loss Pictures | Weight Loss Diet | Vegetarian Weight Loss | Losing Weight | Lose 10 Pounds | Exercises Lose Weight | Online Weight Loss | Weight Loss | Running Weight Loss | Weight Loss Plan | Weight Loss Exercises | Weight Loss Information | Best Way to Lose Weight | Lose Weight Gain Muscle | Lose Weight Quick | Walking and Weight Loss | Eat Lose Weight | Lose Weight Tips | Fast Weight Loss | Lose Weight Healthy | Weight Loss Plans | How to Lose Weight Fast? | Weight Loss Programs | Weight Loss Workout Routine | Fat Weight Loss | How to Loss Weight? | Weight Loss Photos | Help Lose Weight | Weight Loss Tips | Healthy Weight Loss | Weight Loss Tip | Quick Weight Loss | Rapid Weight Loss | Safe Weight Loss | Weight Loss Reviews | Best Weight Loss | Best Weight Loss Tips | Weight Loss Program | Weight Loss Workouts | Weight Training Workouts | Best Weight Loss Workouts | Lose Tummy Fat | Weight Training Workout | Workout Program