Fat Burning Workout Routine
Fat Burn Routine
If you want to lose 10, 20, 30 pounds or more, cardio is NOT the answer. In fact, the best fat burn routine is the complete opposite of long, slow, boring exercise. Here's why…
Research shows that interval training burns belly fat better than long slow cardio. In one study, researchers put one group of women on a slow cardio program (40 minutes three times per week) and another group of women on an interval training program (20 minutes three times per week).
Most folks were shocked to find out that the interval training group lost belly fat while the cardio group didn't. But I wasn't surprised at all, because I've been using interval training and resistance training with my clients for years.
Try one of the most effective Turbulence Training workouts for FREE!
Enter your name and email to receive your FREE Report.
Be sure to check your "bulk", "junk", or "spam" folders, as emails occasionally get mistakenly filtered.
Your email will NOT be sold or rented. Turbulence Training is a Spam-Free website.
In fact, men and women lose up to 34 pounds of body fat in just 12 weeks with the right fat burning routine and fat loss diet. And they don't do any cardio. No more boring sessions on the treadmill where you watch TV and read magazines. Those workouts are a waste of your time and a thing of the past.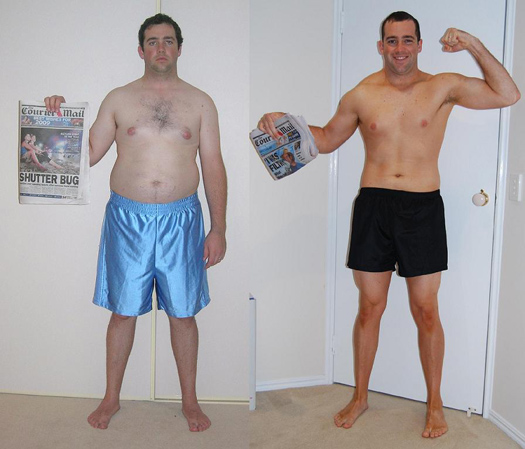 So here's how to do a better fat burning program. First, start with a bodyweight warm-up. I like to use prisoner squats (hands behind your head), kneeling pushups, and stability ball leg curls when training beginners.
Next, you'll move onto circuit training or resistance training supersets. Women tend to like circuit training better while guys like supersets, but both will crank up your fat burning all day long.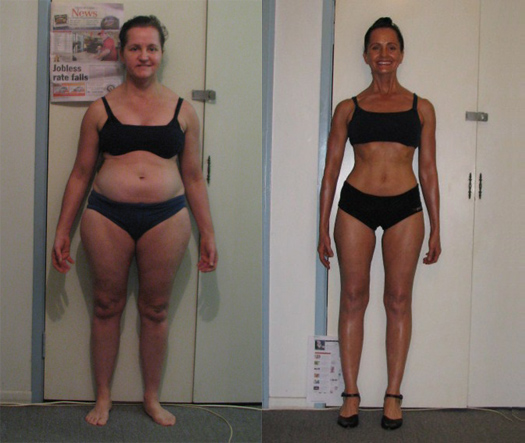 Everyone needs resistance training if they want to build their perfect body. It won't make you big and bulky if you do the right exercises in the right amount. And that's why Turbulence Training uses so many bodyweight exercises. Plus, you can do these workouts anytime, anywhere.
After you've done 10-20 minutes of resistance training, you'll finish off the fat burn routine with interval training. Most folks think cardio is the best way to lose fat, but the truth is that long cardio workouts are the LAST place a beginner should start.
If you are overweight and out-of-shape, you'll end up in the physiotherapist's office faster than you can say "fat burning zone". Instead, you need to strengthen your muscles with bodyweight exercises and lose fat with diet.
The best fat burn routine always comes with a good diet, focusing on whole, natural foods and avoiding processed foods from a bag or a box. Cut out sugar, eat more fruits and vegetables, and you can lose 5-10 pounds in a week. It's that simple.
And you don't need to spend hours on the ground doing crunches or sit-ups either. These aren't a good way to burn belly fat, and you'll get more results by focusing on interval training instead.
Interval training is simply a workout where you alternate between hard exercise and easy exercise. A lot of people call it a form of cardio, and I guess you could argue that, but again, it's not long, slow cardio. With interval training, you'll get more fat burning results in half the workout time of any cardio program.
So cut out the cardio, kick the crunches to the curb, say goodbye to sugar, and you'll lose fat fast with this routine.
| | |
| --- | --- |
| | WOMEN: Click here to discover the truth about cardio for fat loss, and why the two components of short, burst exercise workouts have been scientifically proven to better for fat loss and losing your belly fat. |
| | MEN: Click here to uncover the secrets of short workout you can do to build muscle and burn fat at the same time, all while getting in and out of the gym in under 45 minutes only 3 times per week, so that you can get on to more important things in your life. |
Related Articles:
Fat Burning | Best Fat Burning Exercises | Fat Burning Cardio | Fat Burning Nutrition | Fat Burning Workout | Fat Burning Workouts | Fat Burning Diet | Fat Burning Exercise | Fat Burning System | Fat Burning Tips | Interval Training for Fat Burning | Top 5 Belly Fat Burning Cardio Myths | 5 Simple Fat Burning Nutrition rules | Fat Burning Exercises | Best Fat Burning Workout | Fat Burning Foods | Fat Burning Techniques | Fast Fat Burning | Fat Burning Secrets | Fat Burning Workout for Women | Fat Burning Workouts for Women | Circuit Training Workout | Cardio Routine | Burning Belly Fat | Fat Burning Cardio Workout | Work Out | Best Cardio Workout | Fat Burning Work Out | Workouts | Fat Burning Cardio Workouts | Fat Burning Workout Routine | Fat Burn Zone | Stomach Fat Burn | Reduce Belly Fat | Cardio Exercise | Cardio Workout Routines | Fat Burning Diets | Fat Burning Tips | Fat Burning Workout Routines | Fat Burning Food | Target Heart Rate Fat Burn | Workout Programs | Body Fat Burning Workouts | Burning Fat Calories | Fat Burning Recipes | Burning Body Fat | Fat Burning Supplements | Best Fat Burning Cardio | Best Fat Burning Exercise | Cardio Routines | Fat Burning Zone