Fat Burning Work Out
If you want the best fat burning work out, you must stop doing cardio and start using the workout secrets you'll discover in this story.
Jonny Munro was a classic guy who was lean all through his school years - thanks to sports - but started packing on the pounds when he got his first real job and stopped exercising. In just a few years he gained 44 pounds of fat!
Desperate for a fat loss work out that worked, Jonny searched all over the Internet for a solution, but it wasn't until he stumbled across the transformation Jason Davie (who lost over 31 pounds with Turbulence Training) that he was convinced he had found the best fat burning exercise program.
Try one of the most effective Turbulence Training workouts for FREE!
Enter your name and email to receive your FREE Report.
Be sure to check your "bulk", "junk", or "spam" folders, as emails occasionally get mistakenly filtered.
Your email will NOT be sold or rented. Turbulence Training is a Spam-Free website.
At the start of Jonny's transformation, he weighed over 220 pounds and was worried about his health now that he had a baby girl, but just 12 weeks later he was down to 188 pounds. He lost over 30 pounds of fat in 12 weeks!
Jonny immediately started loving the fat burning workout programs from Turbulence Training and started losing fat almost immediately. The fun challenge of each session motivated him to do better and better each session. He was hooked!
He started with the beginner fat burning program that focused on bodyweight exercises to help him prepare for the more advanced workouts. He eventually moved into dumbbell exercises to help him build muscle and lose fat at the same time.
The fat loss workouts he used all started with a bodyweight warm-up, so he would do prisoner squats, pushups, lunges and planks to prepare his joints and muscles for other resistance exercises. This was so much better than doing a 10 minute walk on the treadmill that doesn't prepare you for anything.
In just weeks Jonny boosted his strength by 100%, doubling the weight he could lift in each exercise. Wouldn't you like to double your bench press? That's the power of the fat burning Turbulence Training workouts.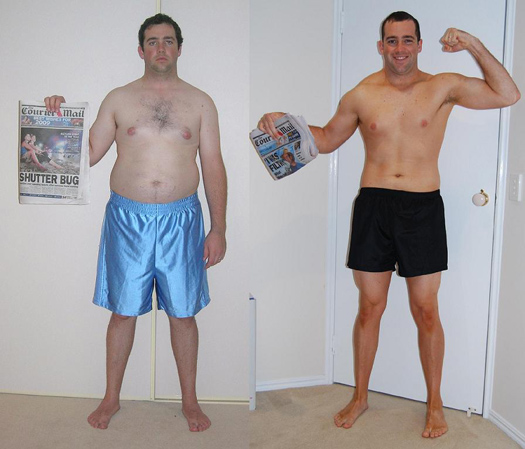 Not only will you lose fat and gain muscle at the same time, but you'll also build strength. After the warm-up, Jonny moved into non-competing supersets that allowed him to do more exercise in less time while keeping him fresh to gain strength.
Most fat burning workouts focus too heavily on cardio and not enough on resistance training, so you never end up sculpting your body. Instead, you just become a smaller version of a fat guy. "Skinny fat" they call it. Brutal.
But if you use the right fat burning workout that gives you the right warm-up (bodyweight exercises) and the best supersets to build muscle and lose fat at the same time, you'll get your resistance training done in just 20 minutes.

That still leaves you a lot of time for interval training, which was another secret weapon for Jonny in helping him lose belly fat. Research shows that the best fat burning work out programs all use interval training.
Slow cardio is for people who have time to waste, and don't care about results. But if yo want to lose fat like Jonny, you need to use Turbulence Training.
| | |
| --- | --- |
| | WOMEN: Click here to discover the truth about cardio for fat loss, and why the two components of short, burst exercise workouts have been scientifically proven to better for fat loss and losing your belly fat. |
| | MEN: Click here to uncover the secrets of short workout you can do to build muscle and burn fat at the same time, all while getting in and out of the gym in under 45 minutes only 3 times per week, so that you can get on to more important things in your life. |
Related Articles:
Fat Burning | Best Fat Burning Exercises | Fat Burning Cardio | Fat Burning Nutrition | Fat Burning Workout | Fat Burning Workouts | Fat Burning Diet | Fat Burning Exercise | Fat Burning System | Fat Burning Tips | Interval Training for Fat Burning | Top 5 Belly Fat Burning Cardio Myths | 5 Simple Fat Burning Nutrition rules | Fat Burning Exercises | Best Fat Burning Workout | Fat Burning Foods | Fat Burning Techniques | Fast Fat Burning | Fat Burning Secrets | Fat Burning Workout for Women | Fat Burning Workouts for Women | Circuit Training Workout | Cardio Routine | Burning Belly Fat | Fat Burning Cardio Workout | Work Out | Best Cardio Workout | Fat Burning Work Out | Workouts | Fat Burning Cardio Workouts | Fat Burning Workout Routine | Fat Burn Zone | Stomach Fat Burn | Reduce Belly Fat | Cardio Exercise | Cardio Workout Routines | Fat Burning Diets | Fat Burning Tips | Fat Burning Workout Routines | Fat Burning Food | Target Heart Rate Fat Burn | Workout Programs | Body Fat Burning Workouts | Burning Fat Calories | Fat Burning Recipes | Burning Body Fat | Fat Burning Supplements | Best Fat Burning Cardio | Best Fat Burning Exercise | Cardio Routines | Fat Burning Zone