Workouts
If you want the best fat burning workouts, then stop doing cardio and listen to what I have to say. Or more importantly, what Jason Davie has to say. He's one of my clients who lost over 31 pounds in just 12 weeks.
Before his fat loss transformation, Jason was fat, frustrated and lazy. He didn't do anything. It made him mad. But finally, he killed those excuses - like you are ready to do - and got serious with his fat loss workouts.
Jason turned 33 and celebrated by avoiding cardio and focusing on resistance training and interval training to lose belly fat. In just 12 weeks he lost 7.5 inches of belly fat!
Try one of the most effective Turbulence Training workouts for FREE!
Enter your name and email to receive your FREE Report.
Be sure to check your "bulk", "junk", or "spam" folders, as emails occasionally get mistakenly filtered.
Your email will NOT be sold or rented. Turbulence Training is a Spam-Free website.
But Jason didn't go balls hard in his workouts in the first few weeks. He was smart enough to know that he had to ease back into his workouts, so focused on bodyweight exercises such as prisoner squats, pushups, bodyweight rows, planks, split squats, side planks and even a few stability ball exercises (but not the goofy ones).
In just a few short weeks he was already doing more chinups and is up to 11 full chinups right now. Plus, he's added over 20 pounds to his bench press. After he started the bodyweight exercises, he moved on to dumbbell exercises.
Then he totally changed his program up again and started using bodyweight circuit training to burn the last bit of belly fat while maintaining muscle. You might lose muscle if all you do is long, slow cardio and you don't eat enough, but as long as you do bodyweight resistance exercises you will NOT lose muscle.
Heck, Jason is up to 60 pushups straight right now. That's more than most personal trainer fitness experts can do. The bodyweight circuits also allowed him to take a week long camping vacation before the end of the contest and still come back at single digit body fat and wow the judges to win 2nd prize (and $1000 cash!).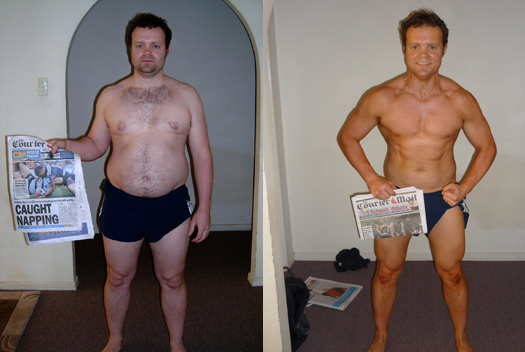 Jason's weight training workouts always started with a bodyweight circuit warm-up, and then went to non-competing supersets. He used a dumbbell for most exercises, and could have done the workouts at home.
Non-competing superset workouts allow you to get the most amount of fat burning, muscle building exercise done in just a short time, and that's what Jason did. He lifted heavy, keeping his reps between 6-10 for weight exercises.
Some trainers recommend doing really light weights and super high-reps, but that's a joke. That won't get you faster results. It will waste your time though!

In addition to the short workouts, Jason loved the unique bodyweight exercises in his workouts including spiderman pushups, bodyweight rows, Bulgarian split squats, and cross body mountain climbers.
In just 12 weeks, Jason lost 31 pounds of fat and a lot of that was Belly Fat! In fact, thanks to the fast fat burning Turbulence Training workouts, Jason now gets asked if he is a personal trainer wherever he goes.
Jason has proved that bodyweight and dumbbell exercises work better than cardio. So if you want to lose fat and build muscle at the same, get the Turbulence Training workouts today!
| | |
| --- | --- |
| | WOMEN: Click here to discover the truth about cardio for fat loss, and why the two components of short, burst exercise workouts have been scientifically proven to better for fat loss and losing your belly fat. |
| | MEN: Click here to uncover the secrets of short workout you can do to build muscle and burn fat at the same time, all while getting in and out of the gym in under 45 minutes only 3 times per week, so that you can get on to more important things in your life. |
Related Articles:
Fat Burning | Best Fat Burning Exercises | Fat Burning Cardio | Fat Burning Nutrition | Fat Burning Workout | Fat Burning Workouts | Fat Burning Diet | Fat Burning Exercise | Fat Burning System | Fat Burning Tips | Interval Training for Fat Burning | Top 5 Belly Fat Burning Cardio Myths | 5 Simple Fat Burning Nutrition rules | Fat Burning Exercises | Best Fat Burning Workout | Fat Burning Foods | Fat Burning Techniques | Fast Fat Burning | Fat Burning Secrets | Fat Burning Workout for Women | Fat Burning Workouts for Women | Circuit Training Workout | Cardio Routine | Burning Belly Fat | Fat Burning Cardio Workout | Work Out | Best Cardio Workout | Fat Burning Work Out | Workouts | Fat Burning Cardio Workouts | Fat Burning Workout Routine | Fat Burn Zone | Stomach Fat Burn | Reduce Belly Fat | Cardio Exercise | Cardio Workout Routines | Fat Burning Diets | Fat Burning Tips | Fat Burning Workout Routines | Fat Burning Food | Target Heart Rate Fat Burn | Workout Programs | Body Fat Burning Workouts | Burning Fat Calories | Fat Burning Recipes | Burning Body Fat | Fat Burning Supplements | Best Fat Burning Cardio | Best Fat Burning Exercise | Cardio Routines | Fat Burning Zone