Circuit Training Workout
1-2-3-4-5. That's all it takes. A simple 5 exercise fat burning circuit training workout is all you need to cut back on your exercise time and burn fat fast. But if you think that you need fancy machines or an expensive gym membership, you'll be shocked at the truth.
Spandex-clad personal trainers gave circuit training a bad name back in the 80's, and this type of fat burning workout has been trying to get it's reputation back for years. Fortunately, with a few tweaks and the right exercises I've put together the best fat burning circuit workout for you.
All you need are the "Big 5" fat burning exercises. The "Big 5" are guaranteed to burn belly fat. In fact, if you don't have these Big 5 moves in your program, then you are wasting your time when trying to lose fat. Take those exercises and put them in the correct order for a fast circuit, and you're set. So here's how it works.
Try one of the most effective Turbulence Training workouts for FREE!
Enter your name and email to receive your FREE Report.
Be sure to check your "bulk", "junk", or "spam" folders, as emails occasionally get mistakenly filtered.
Your email will NOT be sold or rented. Turbulence Training is a Spam-Free website.
You're going to start with a squat exercise. This could be classic barbell squats if you are advanced, or bodyweight squats if you are a beginner (or if you are doing a bodyweight circuit workout). The squat exercise works a lot of muscle and interval training effect. You can't leave these out.
Next up, it's time to take care of the upper body muscles with a pushing exercise followed by a pulling exercise. You'll love pairing push-ups with bodyweight rows if you are a bodyweight exercise fan (plus, there are dozens of different push-ups you can choose from).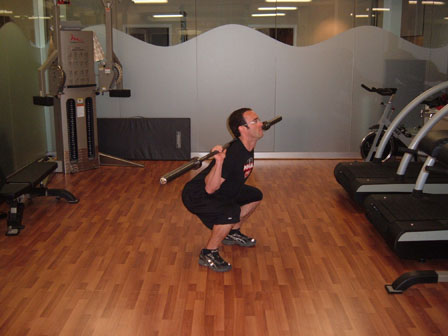 If you prefer dumbbell exercises, I highly recommend chest presses followed by rows. Or if you workout in a gym, you could include bench presses and seated rows in your fat burning circuit workout.
Whatever you choose, focus on training as hard as possible. You'll be using 8-12 repetitions per set for each exercise in the circuit when using weights (you can use more reps per set if using bodyweight exercises). You don't need to train to failure, but you should be close.
After the upper body workout, it's time to move on to a single-leg exercise. This is going to be tough, but you're going to love the results. For beginners, you can use lying single-leg hip extensions, a powerful workout for your butt and hamstrings that you can do lying on the floor.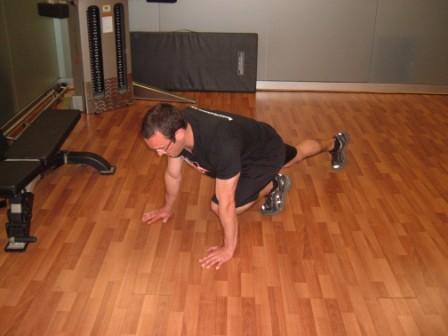 If you want more of a challenge, then try split squats or lunges. For the ultimate single-leg exercises, you'll want to use Bulgarian split squats or 1-leg squats - or even pistol squats. These are powerful exercises for sculpting your body, and no matter what your goal, you will end up with a butt that is hard as a rock.
Finally, it's time to finish off the fat burning circuit training workout with a simple, yet effective total body abdominal exercise. For beginners, try the plank or side plank exercise. If you are more advanced, head right to stability ball jackknives or rollouts. You don't need to do sit-ups or crunches.

That's it for your circuit training workout. Do each exercise without rest, and then take a 1 minute break at the end of the circuit before repeating it up to 2 more times. If you want, you can finish off with interval training to help with fat burning.
| | |
| --- | --- |
| | WOMEN: Click here to discover the truth about cardio for fat loss, and why the two components of short, burst exercise workouts have been scientifically proven to better for fat loss and losing your belly fat. |
| | MEN: Click here to uncover the secrets of short workout you can do to build muscle and burn fat at the same time, all while getting in and out of the gym in under 45 minutes only 3 times per week, so that you can get on to more important things in your life. |
Related Articles:
Fat Burning | Best Fat Burning Exercises | Fat Burning Cardio | Fat Burning Nutrition | Fat Burning Workout | Fat Burning Workouts | Fat Burning Diet | Fat Burning Exercise | Fat Burning System | Fat Burning Tips | Interval Training for Fat Burning | Top 5 Belly Fat Burning Cardio Myths | 5 Simple Fat Burning Nutrition rules | Fat Burning Exercises | Best Fat Burning Workout | Fat Burning Foods | Fat Burning Techniques | Fast Fat Burning | Fat Burning Secrets | Fat Burning Workout for Women | Fat Burning Workouts for Women | Circuit Training Workout | Cardio Routine | Burning Belly Fat | Fat Burning Cardio Workout | Work Out | Best Cardio Workout | Fat Burning Work Out | Workouts | Fat Burning Cardio Workouts | Fat Burning Workout Routine | Fat Burn Zone | Stomach Fat Burn | Reduce Belly Fat | Cardio Exercise | Cardio Workout Routines | Fat Burning Diets | Fat Burning Tips | Fat Burning Workout Routines | Fat Burning Food | Target Heart Rate Fat Burn | Workout Programs | Body Fat Burning Workouts | Burning Fat Calories | Fat Burning Recipes | Burning Body Fat | Fat Burning Supplements | Best Fat Burning Cardio | Best Fat Burning Exercise | Cardio Routines | Fat Burning Zone