Weight Training
3 Weight Training Workouts that Burn Fat
Do you know the secret weight loss weapon of the world's best personal trainers? Shockingly, its not cardio or some expensive diet pill. Nor is it an ab exercise gimmick.
Nope, the secret to the world's best fat burning and bodysculpting workouts is weight training. Heck, it doesn't even require weights, because some trainers use bodyweight training instead of dumbbells or barbells.
In fact, some of the best Turbulence Training Transformation success stories, such as Catherine Gordon, Jason Davie, and Juan Ruiz all used weight training to lose a combined 147 pounds of fat in their transformations.
Catherine, like most 40-something moms, still had some baby fat hanging around. She had tried all sorts of workouts and diets, had done lots of cardio, and had almost given up on the dream of having her body back.
Try one of the most effective Turbulence Training workouts for FREE!
Enter your name and email to receive your FREE Report.
Be sure to check your "bulk", "junk", or "spam" folders, as emails occasionally get mistakenly filtered.
Your email will NOT be sold or rented. Turbulence Training is a Spam-Free website.
But then she stumbled upon the non-competing superset weight training weight loss workouts of Turbulence Training and she discovered the whole new world of online social support to help her stick to her exercise program.
Catherine's workouts included dumbbell and bodyweight exercises. Here's a sample of how her weight training and bodyweight exercise workouts looked. First, she started with a bodyweight circuit for warm-up and then did the following supersets.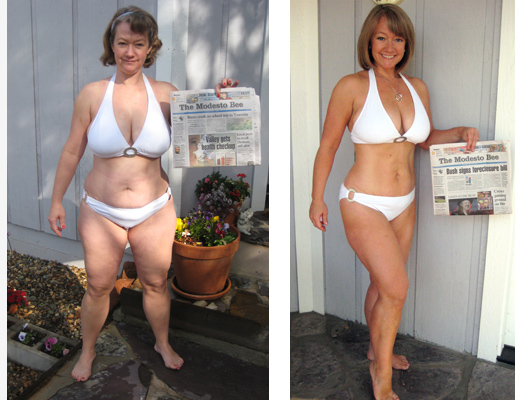 1A) Dumbbell (DB) Split Squat - 8 repetitions per side
1B) Pushup - As many repetitions as possible
2A) DB Row - 8 reps per side
2B) Stability Ball Leg Curl - 15 reps
Do not rest between 1A and 1B. Catherine rested 1 minute after completing 1B before repeating the superset two more times for a total of 3 supersets. She then rested 1 minute before repeating that same sequence for the second superset.
The weight training workout takes only 15-20 minutes and helped Catherine lose 14 pounds in 12 weeks, plus it made her look a decade or two younger (and helped her win the grand prize of $2000 in the Turbulence Training Transformation Contest).
Jason Davie also used weight training for weight loss. He started with bodyweight circuits for warm-up and then went through a fat burning, muscle building workout using the same set-up as Catherine, but different exercises. Jason lost 31 pounds of fat in 12 weeks and achieved 2nd place in a Turbulence Training Transformation Contest.
1A) DB Forward Lunge - 8 reps per side
1B) DB Chest Press - 8 reps
2A) DB RDL - 12 reps
2B) DB 1-Arm Standing Shoulder Press - 8 reps per side
Finally, Juan Ruiz was the first person to lose 100 pounds with Turbulence Training, and he also used weight training workouts and bodyweight exercises to burn belly fat. After a bodyweight warm-up, Juan's workouts looked like this.

1A) DB Squat - 12 reps
1B) DB Incline Press - 8 reps
2A) DB Step-up - 8 reps per side
2B) DB Row with Elbow Out - 8 reps per side
Juan also used the same superset set-up as Catherine and Jason. With the weight training workouts from Turbulence Training, you can lose belly fat and lose a lot of weight in just a short amount of time with the ultimate personal trainer's secret.
| | |
| --- | --- |
| | WOMEN: Click here to discover the truth about cardio for fat loss, and why the two components of short, burst exercise workouts have been scientifically proven to better for fat loss and losing your belly fat. |
| | MEN: Click here to uncover the secrets of short workout you can do to build muscle and burn fat at the same time, all while getting in and out of the gym in under 45 minutes only 3 times per week, so that you can get on to more important things in your life. |
Related Articles:
Burn Fat | 3 Ways to Burn Belly Fat | How to Burn Fat? | Burn Fat Build Muscle | Exercises That Burn Fat | Burn Fat Gain Muscle | Burn Tummy Fat | Diet That Burns Fat | How to Burn Belly Fat? | Foods That Burn Fat | Best Way Burn Fat | Workouts That Burn Fat | Workout Routines | Burn More Fat | Quickest Way to Burn Fat | Belly Fat Burn | Best Ways to Burn Fat | Burns Belly Fat | At Home Workouts | Weight Training | Cardio Burn | Burn Fat Quickly | Heart Rate to Burn Fat | At Home Workout | Cardio Workout | Best Way to Burn Body Fat | Running to Burn Fat | Circuit Training Program | Best Fat Burn | Fat Burner | Burns Fat | Burn Fat Exercises | Burn Fat Feed Muscle | Burn Fat Faster | Build Muscle and Burn Fat | Burn Body Fat | Cardio Workout Routine | Fat Burn Diet | The Best Way to Burn Fat | Best Exercise To Burn Fat | Foods Burn Fat | Muscle Burns Fat | Ways to Burn Fat | Circuit Training Exercise