Burn Fat Quickly
If you want to burn fat quickly, then you need to FORGET about cardio, because it won't help you lose fat fast. Instead, you need to focus on short, burst fat burning workouts, just like Jonny Munro, who lost over 31 pounds of fat in just 12 weeks.
Not only that, but Jonny gained muscle while losing belly fat, and he finally got rid of the back pain that he developed while being overweight. However, at first, Jonny was skeptical of the program and didn't expect fast fat burning results.
At the start of his total body transformation, Jonny was embarrassed by his photos. Over the years he had gone from lean athlete to classic overweight father. Like most guys, Jonny loved to eat, and that is what made him fat.
Try one of the most effective Turbulence Training workouts for FREE!
Enter your name and email to receive your FREE Report.
Be sure to check your "bulk", "junk", or "spam" folders, as emails occasionally get mistakenly filtered.
Your email will NOT be sold or rented. Turbulence Training is a Spam-Free website.
He was still eating like an athlete even when he was all done school and his competition days were long behind him. In fact, he peaked at an incredible 44 pounds heavier than he was when he finished school.
Finally, Jonny got sick of it and decided to discover the secrets to burn fat quickly. He searched the Internet, just like you, and stumbled upon the fast, effective Turbulence Training workouts. He also found the Turbulence Training Transformation Contest.
It was perfect timing with New Year's right around the corner. He grabbed his copy, and on New Year's Day he stepped on the scale and started transforming his body at the weight of 220 pounds.
Jonny was motivated by his baby daughter who was born only a few months earlier, and despite being skeptical about Turbulence Training, he started using the workouts, and was surprised by how effective even the Beginner workout was for fat loss.
He knew the right thing to do was follow the Turbulence program exactly as recommended, so he went through the program workout by workout, and doubled his strength in just 12 weeks.
Of course, nutrition was a key factor in his success as well, and he found that simply by eating whole, natural foods, he has beat his cravings for pizza, pasta, and deep fried foods. Now he looks forward to eating foods that help him lose fat and gain muscle.
After 12 weeks Jonny made incredible changes, he almost looks like a different guy. Plus, he's proud of taking his shirt off at the beach and can even start to see some ab muscles poking through, thanks to the quick fat burning results.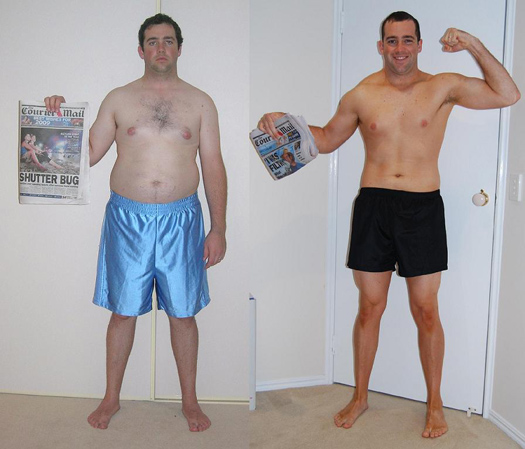 Jonny was also pleasantly surprised to lose the back pain thanks to the simple, yet effective bodyweight exercises in Turbulence Training. He also gained muscle and lost fat quickly, and at the same time, thanks to the workouts.
Overall, Jonny lost 32.1 pounds of fat in just 12 weeks, plus he slashed 8.5 inches from his waist. That is incredibly important for his health as well as for getting close to six pack abs.

If you want to burn fat quickly, nothing is better than Turbulence Training for Fat Loss. The workouts are fun, fast and effective, and you can do them in the comfort of your own home. Jonny has changed his life thanks to the fast fat loss workouts.
| | |
| --- | --- |
| | WOMEN: Click here to discover the truth about cardio for fat loss, and why the two components of short, burst exercise workouts have been scientifically proven to better for fat loss and losing your belly fat. |
| | MEN: Click here to uncover the secrets of short workout you can do to build muscle and burn fat at the same time, all while getting in and out of the gym in under 45 minutes only 3 times per week, so that you can get on to more important things in your life. |
Related Articles:
Burn Fat | 3 Ways to Burn Belly Fat | How to Burn Fat? | Burn Fat Build Muscle | Exercises That Burn Fat | Burn Fat Gain Muscle | Burn Tummy Fat | Diet That Burns Fat | How to Burn Belly Fat? | Foods That Burn Fat | Best Way Burn Fat | Workouts That Burn Fat | Workout Routines | Burn More Fat | Quickest Way to Burn Fat | Belly Fat Burn | Best Ways to Burn Fat | Burns Belly Fat | At Home Workouts | Weight Training | Cardio Burn | Burn Fat Quickly | Heart Rate to Burn Fat | At Home Workout | Cardio Workout | Best Way to Burn Body Fat | Running to Burn Fat | Circuit Training Program | Best Fat Burn | Fat Burner | Burns Fat | Burn Fat Exercises | Burn Fat Feed Muscle | Burn Fat Faster | Build Muscle and Burn Fat | Burn Body Fat | Cardio Workout Routine | Fat Burn Diet | The Best Way to Burn Fat | Best Exercise To Burn Fat | Foods Burn Fat | Muscle Burns Fat | Ways to Burn Fat | Circuit Training Exercise