At Home Workouts
15 Minute At Home Workouts
Imagine waking up to workout at 5:30am, but no gyms were open in your neighborhood because of the rough conditions on the dark streets. That's what it is like for Kevin Flurry in San Paolo, Brazil, but fortunately he does 15 minute at home workouts to burn fat.
Kevin has dropped 2 pant sizes in just 4 weeks, even though he does all his fat burning workouts at home with dumbbells in just a short amount of time using the Turbulence Training system.
In order to get a lot of work done in a short amount of time, Kevin uses supersets, multi-muscle exercises, and a variety of total body movements. Plus, instead of doing long, slow boring cardio, Kevin does bodyweight circuits with no equipment at all, and those workouts kick his butt and burn the fat.
Try one of the most effective Turbulence Training workouts for FREE!
Enter your name and email to receive your FREE Report.
Be sure to check your "bulk", "junk", or "spam" folders, as emails occasionally get mistakenly filtered.
Your email will NOT be sold or rented. Turbulence Training is a Spam-Free website.
He also does short intense interval training sessions by sprinting after his son who is learning to ride his bike. This is a powerful way to burn fat but also to involve his family in health and fitness and teach long-term, life-long lessons about the need for exercise.
If you want at home workouts that don't take very long at all, then you're going to love these sample workouts. First, you need to start every workout with a 3-5 minute bodyweight circuit warm-up.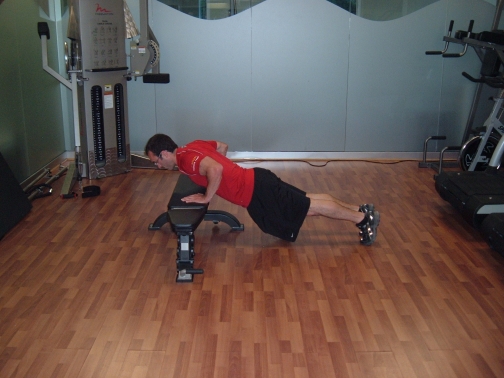 Each circuit uses jumping jacks, prisoner squats, easy push-ups, and planks to prepare the muscles for more difficult exercises. Go through that circuit 2-3 times, doing 10-20 reps per exercise, but don't rest between exercises. Just go, go, go.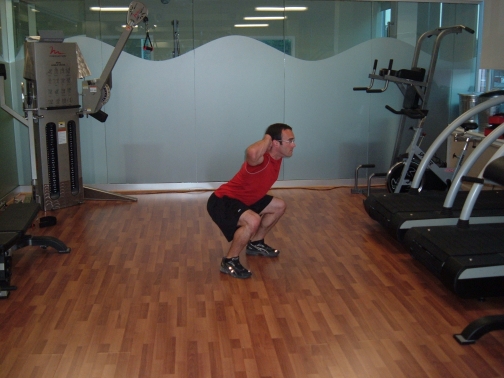 After the circuit, you'll start using supersets and total-body movements. For example, the first superset would be dumbbell squats paired with dumbbell chest presses or close-grip pushups. You should be able to use the same weight for squats and presses, so that will save you time, and you won't have to change the weights.
In the second superset, use dumbbell rows paired with mountain climbers. The dumbbell rows work your back and arms, while the mountain climbers work your chest and abs.
That's it. You're done the first of your at home workouts. Do each superset up to 3 times. Do not rest between the exercises, but rest 1 minute once you are done the superset before repeating up to 2 more times. That's powerful, body changing stuff right there.
In another workout, you can start with the bodyweight circuit, and then do a superset of split squats and standing dumbbell 1-arm shoulder presses. Again, you can use the same weight for each exercise, although you'll probably be able to do 12 reps for split squats and only 8-10 reps for shoulder press.
In the second superset, you'll do dumbbell swings paired with as many push-ups as you can do. You can choose any type of push-up that you want, from regular to decline, or even the advanced spiderman pushup
Make sure you learn how to do all exercises with proper form, by watching the Turbulence Training exercise demonstrations.
With these at home workouts, you'll save time, money, and gas, plus you'll have more energy for your family and spouse. You'll get more fat burning results in less time by working out in the comfort of your own home.
| | |
| --- | --- |
| | WOMEN: Click here to discover the truth about cardio for fat loss, and why the two components of short, burst exercise workouts have been scientifically proven to better for fat loss and losing your belly fat. |
| | MEN: Click here to uncover the secrets of short workout you can do to build muscle and burn fat at the same time, all while getting in and out of the gym in under 45 minutes only 3 times per week, so that you can get on to more important things in your life. |
Related Articles:
Burn Fat | 3 Ways to Burn Belly Fat | How to Burn Fat? | Burn Fat Build Muscle | Exercises That Burn Fat | Burn Fat Gain Muscle | Burn Tummy Fat | Diet That Burns Fat | How to Burn Belly Fat? | Foods That Burn Fat | Best Way Burn Fat | Workouts That Burn Fat | Workout Routines | Burn More Fat | Quickest Way to Burn Fat | Belly Fat Burn | Best Ways to Burn Fat | Burns Belly Fat | At Home Workouts | Weight Training | Cardio Burn | Burn Fat Quickly | Heart Rate to Burn Fat | At Home Workout | Cardio Workout | Best Way to Burn Body Fat | Running to Burn Fat | Circuit Training Program | Best Fat Burn | Fat Burner | Burns Fat | Burn Fat Exercises | Burn Fat Feed Muscle | Burn Fat Faster | Build Muscle and Burn Fat | Burn Body Fat | Cardio Workout Routine | Fat Burn Diet | The Best Way to Burn Fat | Best Exercise To Burn Fat | Foods Burn Fat | Muscle Burns Fat | Ways to Burn Fat | Circuit Training Exercise