Work Out
Work Out for Six Pack Abs
Ready for a work out? I mean a real fat burning exercise session that will help you lose belly fat, give you six pack abs, and not just waste your time with long, slow boring cardio. If so, then you'll love these workouts you can do at home.
Busy dad Andy Apsay wanted to get his six pack abs, but all the workouts he had done in the past didn't help. It wasn't until he used the Turbulence Training work out programs that he finally got his 6-pack, and almost 8-pack abs!
As Andy said after 84 days of hardcore work out programs, "This is the fittest I've been in my life!" And this is from a guy who is 35 years old, works a full-time job and has three kids - and a loving wife.
Try one of the most effective Turbulence Training workouts for FREE!
Enter your name and email to receive your FREE Report.
Be sure to check your "bulk", "junk", or "spam" folders, as emails occasionally get mistakenly filtered.
Your email will NOT be sold or rented. Turbulence Training is a Spam-Free website.
That must be one effective workout program he is using! But only 3 months ago, Andy was gaining fat, not losing fat. He ended the holidays at 17% body fat and was very unhappy. He had to find a better exercise program.
And it was the Turbulence Training Transformation Contest that kicked his butt into gear and got him serious about work out programs again. The accountability was the key to his success.
Andy then started using resistance training and interval training to burn body fat, and he lost 13.4 pounds of fat in 12 weeks, cutting down to just 10.5% body fat. That is lean enough for six pack abs!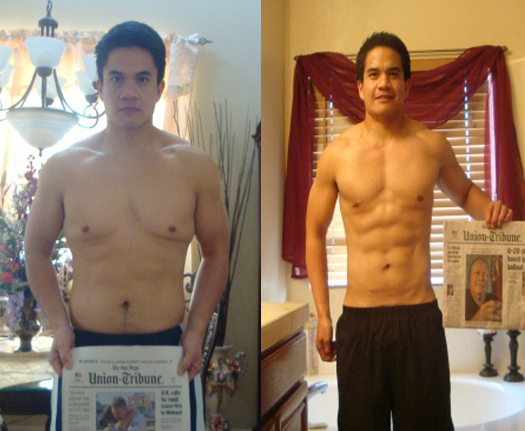 The first workout he used was the TT for Buff Dudes program that features one of the toughest workouts of all time. It includes Tabata intervals, where you'll do 20 seconds of work followed by 10 seconds of recovery and then repeat that 8 times.
What a butt kicker that work out is, especially if you use bodyweight squats or sprints. And to make it tougher, Andy would hold the bottom position of the squat exercise for the 10 second recovery…if you can call it that!
Following 2 weeks on that program, he used the TT Synergy Workout and it kicked his butt. Most people don't know about this program, but it uses some barbell exercises plus dumbbell and bodyweight exercises in the resistance training portion.
Then onto the most popular TT workout of all time, The Turbulence Training Hardcore Fat Loss program. If you know how to do advanced barbell work out exercises like squats, deadlifts, and cleans, you'll love this one!

And then to finish it all off, Andy used a bodyweight circuit program called March Madness to burn the last bit of belly fat. Bodyweight exercise work out programs are awesome because you don't need to go to a gym.
Most bodyweight exercises don't require any equipment, although some might use a ball or a bar. There are dozens of pushups, rowing, and single leg exercises to help you put together awesome circuits - like the TT power circuit - to get fit and lose fat. Plus, you can exercise in the comfort of your own home.
| | |
| --- | --- |
| | WOMEN: Click here to discover the truth about cardio for fat loss, and why the two components of short, burst exercise workouts have been scientifically proven to better for fat loss and losing your belly fat. |
| | MEN: Click here to uncover the secrets of short workout you can do to build muscle and burn fat at the same time, all while getting in and out of the gym in under 45 minutes only 3 times per week, so that you can get on to more important things in your life. |
Related Articles:
Fat Burning | Best Fat Burning Exercises | Fat Burning Cardio | Fat Burning Nutrition | Fat Burning Workout | Fat Burning Workouts | Fat Burning Diet | Fat Burning Exercise | Fat Burning System | Fat Burning Tips | Interval Training for Fat Burning | Top 5 Belly Fat Burning Cardio Myths | 5 Simple Fat Burning Nutrition rules | Fat Burning Exercises | Best Fat Burning Workout | Fat Burning Foods | Fat Burning Techniques | Fast Fat Burning | Fat Burning Secrets | Fat Burning Workout for Women | Fat Burning Workouts for Women | Circuit Training Workout | Cardio Routine | Burning Belly Fat | Fat Burning Cardio Workout | Work Out | Best Cardio Workout | Fat Burning Work Out | Workouts | Fat Burning Cardio Workouts | Fat Burning Workout Routine | Fat Burn Zone | Stomach Fat Burn | Reduce Belly Fat | Cardio Exercise | Cardio Workout Routines | Fat Burning Diets | Fat Burning Tips | Fat Burning Workout Routines | Fat Burning Food | Target Heart Rate Fat Burn | Workout Programs | Body Fat Burning Workouts | Burning Fat Calories | Fat Burning Recipes | Burning Body Fat | Fat Burning Supplements | Best Fat Burning Cardio | Best Fat Burning Exercise | Cardio Routines | Fat Burning Zone