Wait, Want An Even Better Deal?
Upgrade to the Turbulence Training Home Abdominal Workouts Package and And You'll Get Your Monthly Workout FREE and You'll Save Over 25% on the Best-Selling Turbulence Training for Abs Home Workouts.

You'll get...

Your Monthly Workout

The Turbulence Training Home Abdominal Workouts 12-Week Program

The Turbulence Training for Abs 300 Workout

The TT Bodyweight Abs Program: The Home & Hotel Ab Workout You Can Do Without ANY Equipment

The TT Advanced Abdominal Nutrition Guidelines & Meal Plans

The Special Report on the 5 Motivational Secrets to Getting (and KEEPING) Flat Sexy Abs and Burning Belly Fat Permanently

AND the infamous "TT 6-Minute Abs Routines"

When sold separately...

The Turbulence Training Home Abdominals Workout Package is $39.95

TT 6-Minute Abs is $9.95.

And your monthly workout is normally $9.95

For a total of $59.85. But with this special Turbulence Training for Abs Home Workout package, you can get all these programs for only $29.95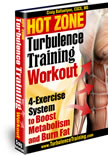 +
YES! I want the Turbulence Training Abdominals Workout Package including The Advanced Abdominal Nutrition Guidelines & Meal Plans for Men & Women with Isabel De Los Rios, Holistic Nutritionist, The 5 Motivational Secrets to Getting (and KEEPING) Flat Sexy Abs and Burning Belly Fat Permanently, The Home Abdominal Workout Ab Exercise Index, The Turbulence Training for Abs "300" Workout, and Bodyweight Abs - The Home & Hotel Ab Workout You Can Do Without ANY Equipment